Artificial turf is highly beneficial, as it offers low-maintenance grass that stays beautiful year-round without all the care a living lawn needs. However, you'll want to consider a few things to ensure you choose the right type for your property in Oregon. The first thing to consider is what you want to use it for, whether replacing your entire lawn, creating a pet area, as an accent, or anything else. You also want to think about what qualities are important to you, such as proper drainage or durability. Finally, you should consider how you want the grass to look, whether short or tall, the shade of green you prefer, and the shape of the blade.
---
1. What do you want to use synthetic turf for?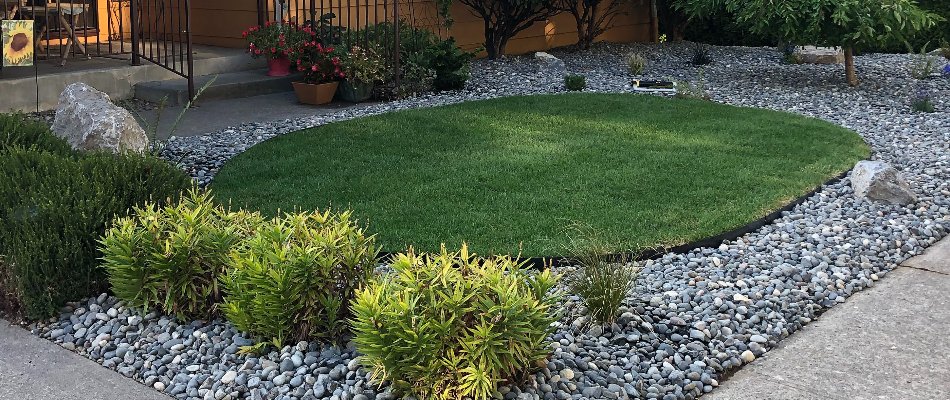 The first thing to consider when choosing artificial turf for your property is what you plan on using it for. Synthetic turf is highly versatile and comes in several different types, depending on what you plan to use it for. Some common uses include the following:
Replacing your entire lawn: Artificial turf is great if you want to replace your living lawn with a low-maintenance one. You can also select from various types to match your preferences and make it look like more natural grass.
Creating a pet area: You can use artificial turf to fit your pets' needs or give them a designated area to play and go to the bathroom.
Adding an accent to a patio or deck area: Artificial turf serves as a beautiful accent piece for hardscapes like patios and decks, as it adds a touch of greenery.
---
2. What qualities are important for you to have with artificial turf?
Another thing you'll want to consider when choosing the right artificial turf type for your property is the qualities that are important for you to have. Depending on your preferences, your synthetic grass can have traits that best suit your needs. For example, you may want it to stay cool even during hot summer days. It comes with infill options designed to keep your artificial turf cool to the touch.
Additionally, you may want it to have proper drainage, which allows excess water to run off and reduce odors from pet urination! Another beneficial quality you may need your artificial turf to have is durability; you can opt for a type made from stronger materials to ensure it can withstand frequent foot traffic and other uses.
---
3. How do you want your artificial grass to look?
The last thing you should think about when choosing artificial turf is how you want the grass to look. Whether you prefer it longer or shorter, there are types for both. You can also decide its color, from a bright, vibrant green to a more natural-looking shade. Not only that, but you can even choose your desired grass blade shape! Its shape can impact everything from how realistic it looks to its functionality, including durability, resilience, wear tolerance, and heat retention. With all these options, you can customize your artificial turf to match your desired aesthetic and use. That way, you can get the most out of it.
Some common artificial grass blade shapes include C-shape, diamond, S-shape, W-shape, and U-blade.
---
Call Us Today to Schedule Our Artificial Turf Installation Service
At J&C Lawn Care, we offer our artificial turf installation service to property owners in Gresham, Happy Valley, Troutdale, OR, and other surrounding areas. Our team will follow a meticulous process to ensure we do it right the first time and it looks great. We can also help you determine which type is best for your needs based on what you plan to use it for, the qualities you want it to have, and your desired look. Call us at (971) 284-2035 to schedule our artificial turf installation service today!