English ivy plants are evergreen perennials sometimes used as ground covers. They originated in central Asia and were later introduced to the Americas. These plants don't belong on your Portland, OR property, as they can damage the surrounding landscape and pose health issues if touched or consumed.
Our team here at J&C Lawn Care offers English ivy control services for homes located in Portland, OR and other nearby areas like Troutdale and Happy Valley. Check out these four reasons you should get English ivy removed from your residential property.
---
1. In Portland, English ivy is an invasive plant species.
Originally from central Asia, English ivy is also native to places in western and southern Europe. However, this plant doesn't belong in the Portland region. It takes away valuable resources from native plants.
Wildlife that relies on native plants can be forced to relocate to other areas, which can affect the natural balance of your landscape's ecosystem.
Don't allow this invasive species to compete with other softscaping on your residential property. Contact our team today and we can implement our English ivy control services.
---
2. English ivy can climb trees and damage their health.
Though English ivy is commonly seen as a ground cover, it is also known as a climbing vine. When it climbs up your trees, it can damage their health in a couple of different ways.
For one, English ivy can physically restrict the growth of your tree branches and take away valuable resources.
Another issue that English ivy can cause is that it may weigh down your trees. This can be especially damaging when ice and water accumulate on the ivy. The additional weight can cause your trees' branches to become damaged or even fall off. To avoid damage to your trees, landscape, and home, call us today and we will address English ivy growth through our control services.
---
3. English ivy is a robust plant that can withstand tough conditions.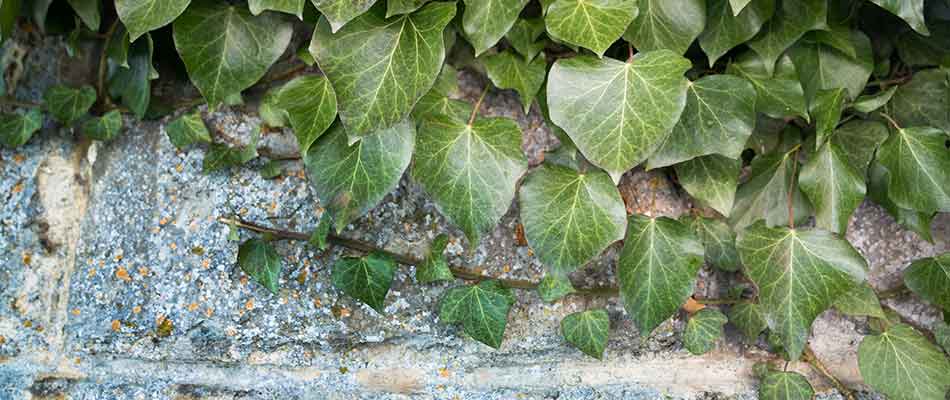 English ivy is a robust plant that can survive a variety of tough conditions. For example, it is resistant to both drought and frost. It grows rapidly and can spread all throughout your landscape. To protect your yard from future damage, it's best to opt for immediate control and removal services. Contact our English ivy control company today for efficient service.
---
4. English ivy presents numerous health issues to humans and pets.
English ivy presents numerous health issues to both humans and pets. If consumed, animals and humans may exhibit the following symptoms:
Excessive drooling
Diarrhea
Vomiting
General nausea
In severe cases, children and small animals may develop neurological conditions.
Upon touching English ivy, you may develop skin irritation. The sap of English ivy can lead to dermatitis, which develops in the form of a rash or dry, itchy skin.
To avoid these health consequences, recruit our English ivy control services for your residential landscape.
---
Are you searching for professional English ivy control services? Call us today.
If you are searching for professional English ivy control services, you can trust our team to effectively handle this invasive species. Call us today at (971) 284-2035 for English ivy control and removal services in Troutdale, Gresham, and Happy Valley, OR.