At J&C Lawn Care, one of our specialties is taking properties that have been neglected and turning them into a beautiful display. When we were presented with an opportunity in the East Portland, OR area to clean up a residential property, we jumped at the chance.
This particular project presented a couple of challenges: the homeowner wanted to keep as much of the original plant life as possible and wanted a yard that looked nice without requiring hours of lawn maintenance and mowing. We took those into consideration when planning out this yard cleanup and landscape renovation.
Property cleanups can help increase your home value as well as your curb appeal. Check out some photos below from this recent project we completed!
---
Renovating Landscape Beds by Adding New Mulch, Clearing Out Debris
The existing landscape beds had fallen victim to lack of maintenance, and so we went in with a plan to renovate them and eliminate debris while still preserving as many of the existing plants as we could. Our team cleared out yard debris, leaf buildup, and extra weeds so that the landscape plants would have room to breathe.
The landscape beds had also overtaken part of the brick patio that was in the yard. Once we cleaned up the area, we ended up discovering that the patio had a border of a different color, which blended well with the black mulch we chose for the renovated landscape beds. Installing mulch has many benefits for landscape beds, including helping to prevent soil erosion and retaining moisture.
---
Revitalizing the Yard by Removing Old Planter Boxes & Using Different Mulches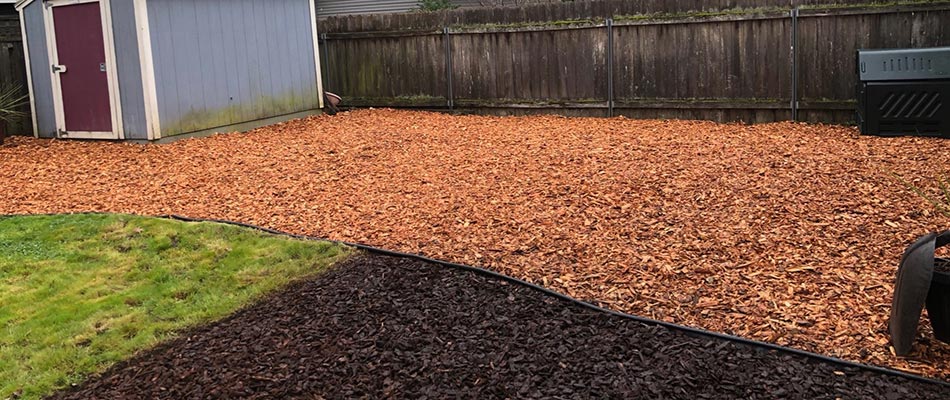 The rest of the yard was not in much better shape. After being neglected for a while, it had fallen into disrepair. One section of the yard had wooden planter boxes that were probably at one time beautiful but were beginning to rot and look unappealing. We made the decision to take these out, as rotting wood can often attract unwanted pests to a yard. The last thing any homeowner wants to hear is that they may have a termite invasion.
The homeowner also wanted a yard that didn't require a lot of maintenance, so after we cleaned up the area, we laid down two different mulches to give the yard some extra color and depth. Mulch will help prevent unwanted weed growth in the area and gives the homeowner a bigger yard area to enjoy with less mowing required.
---
Check out some other photos from our property cleanup and landscape restoration here!
---
Are you in need of a yard cleanup or landscape bed renovation for your residential or commercial property?
At J&C Lawn Care, we provide comprehensive yard cleanups for residential and commercial properties across the Portland, OR area, including Gresham, Happy Valley, and Troutdale. We offer seasonal spring and fall cleanups and leaf removal services as well as one-time cleanups for distressed and neglected properties such as this one.
If your property is in need of a yard cleanup, then contact us today at (971) 284-2035 to set up an estimate with a member of our experienced crew! We would love to help you get the yard of your dreams.