The 2021 fire season has started a month earlier than expected in some counties of Oregon. It usually begins in early June and lasts until fall or when state officials declare it. Burn bans are announced alongside the fire season to mitigate the risk of more wildfires.
More than 1.2 million acres of land were burned in 2020's wildfires, leaving many residents struggling. According to Oregon Public Broadcasting, 90% of the fires in Oregon in 2020 were caused by humans from campfires, fireworks, and other open fires.
As responsible homeowners, it is vital to prepare for the fire season to protect you, your property, and your loved ones. Creating an exit plan and knowing different fire danger levels are among the various ways you can prepare for the fire season. Learn more about how you can protect your lawn and your loved ones from this year's fire season.
---
Know the Fire Danger Levels
The United States Department of Agriculture Forest Service has established a fire danger rating system to measure fire danger in an area. Educating yourself about the different fire danger levels will help you reduce the risk of igniting fires. State officials also base their restrictions on how serious fire danger is in their state.
There are four fire danger levels: green for low fire danger, blue for moderate, yellow for high fire danger, and red for extreme fire danger. Mowing your grass is not restricted if you are living in a low fire danger area. However, those living in moderate to extreme fire danger areas are advised to follow level restrictions on mowing.
---
Resist Wildfire Spread with a Defensible Space around Your Property
Through the Defensible Space Law, Oregon requires homeowners to make sure there is a defensible space in between your home and the grass/trees/shrubs that surround it to resist the spread of wildfire. This space should be free of excess vegetation and will help protect your home from fire.
Here are some ways you can create a defensible space:
You are not allowed to burn yard debris during the fire season as it may trigger large fires. The best thing you can do is to remove natural debris from your property to prevent embers from starting a fire.
Prune dead material on trees and keep their branches away from your roof. Dead plants and tree branches may add fuel to the fire, so trimming them will mitigate your fire risk.
A regularly watered lawn can also aid in slowing down the spread of wildfire. Dry grass in your yard is more flammable, so regularly watering your grass will reduce the risk of it catching fire.
Store woodpiles, gas cans, propane tanks, and other flammables safely away from your home.
Our yard cleanup service has meticulous attention to detail to ensure no natural debris is left that may kindle a fire.
---
Plan for a Fire-Safe Yard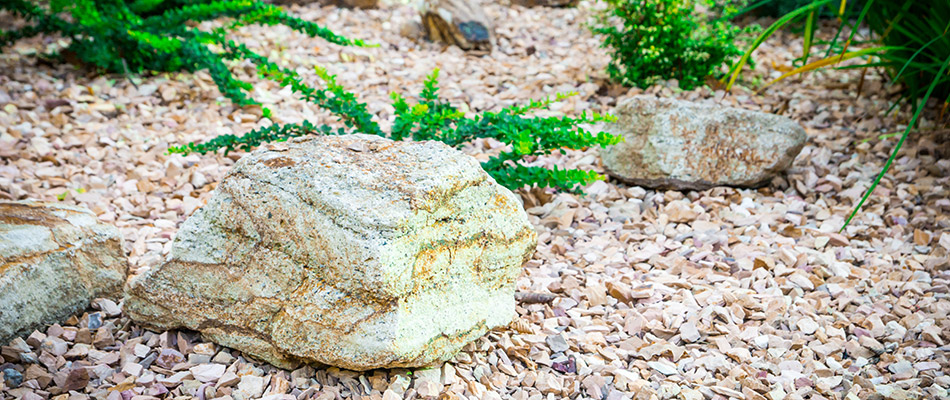 Aside from boosting your curb appeal, yards can also be designed to protect the entire property. When planning for a new landscape, make sure to communicate with your landscapers that you want a fire-safe yard. A fire-safe yard means strategically planting trees and plants to avoid fires from spreading quickly and ravaging your home.
Avoid organic mulch, as it is flammable. Instead, use materials such as rock, gravel, or pebbles on your lawn. A well-spaced landscape is also critical for creating a fire-safe yard because plants too close together will cause fire to spread quicker.
Proper planning and routine maintenance will go a long way in ensuring that your lawn is well-prepared for the fire season.
---
Make Sure You Have an Exit Plan in Place
During the fire season, it is also crucial to have a plan should you need to evacuate. Communicate with your family about how you are going to leave your home if the need arises. Monitor the weather and wildfire conditions in your area to stay up-to-date and prepared.
Communities usually have an emergency response plan in place and it includes evacuation centers for residents. Ensure you are well-informed about these so you know where to go.
---
Our yard cleanup service can help protect your property during the fire season. Schedule today!
Our team offers a comprehensive cleanup service to ensure yard debris is removed from your lawn to prevent fire from spreading to your property. Yard cleanups also include trimming, edging, weed pulling, and more.
We service properties in Gresham, Happy Valley, Troutdale, Fairview, OR and other nearby areas. Talk to us today at (971) 284-2035 for a pricing estimate.