Our clients in Gresham, Oregon came to us with ideas for their total landscape redesign. At the time, their front yard consisted of yellowing grass, overgrown shrubs and hedges, and virtually no landscape design. Our clients were ready to turn their front yard into a landscape that increased their curb appeal and made their neighbors jealous!
We transformed this front yard into an island of green grass surrounded by a river rock ground covering. We added pops of color and more greenery by planting flowers and shrubs throughout the yard. Our crew then trimmed and pruned the original shrubs and hedges to give them a clean, uniform look.
The materials we used for this project included river rocks, landscape edging around the grass island, sod, large decorative boulders, and plantings. Continue reading to find out exactly how our team used these materials and our skills and expertise to transform this front yard!
---
Extracting the Lawn & Installing Sod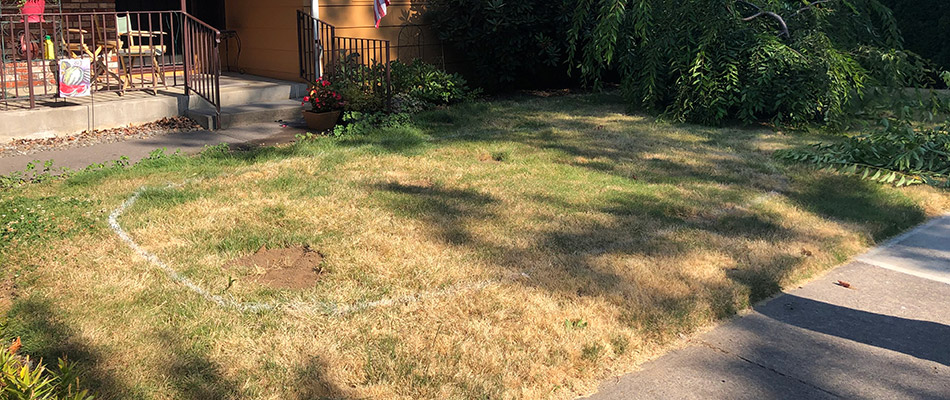 The very first step in the landscape redesign was to remove the dead grass so that we could start new. Our clients wanted bright, green grass so, instead of making them wait for new seeds to grow, we decided to install sod. Sod is often referred to as an "instant lawn," meaning our clients were able to enjoy the look of their green grass right away.
To remove the dead grass, we used a sod cutter to cut it from its roots. We then graded and leveled the bare ground to give us a nice, clean slate to work with. After the ground was fully prepared, we began to roll out the sod. Because our clients only wanted a small "island" of grass, this didn't take our crew very long! Once the sod was placed, we used a roller to press down on the new grass to help it adhere to the soil and start to develop strong roots. Lastly, our crew added a thin, black plastic landscape edging around the border of the grass island to give it a little definition.
---
We trimmed and pruned the existing shrubs and hedges and then added a variety of new plants.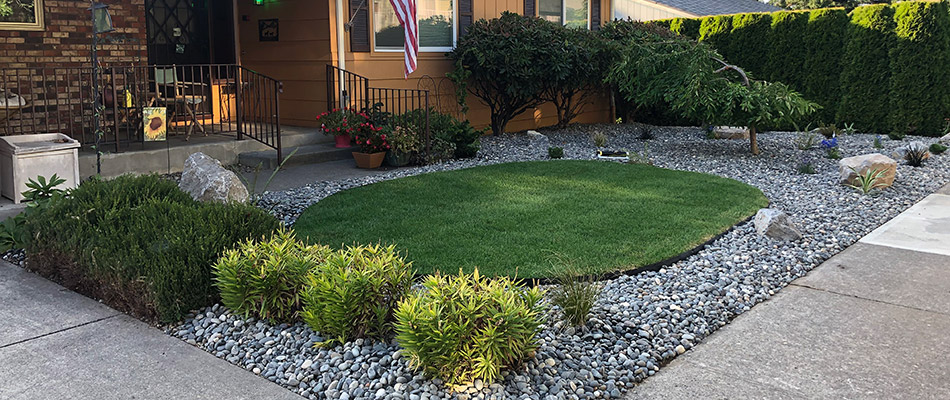 The next step was to focus on flowers, shrubs, and hedges. Our clients already had great existing vegetation, it just needed a little bit of TLC! First, we pruned the shrubs and hedges by taking a close look at them and cutting off any dead branches. We then trimmed the hedges to make them one, uniform shape.
After taking care of the existing greenery, we began to fill the yard with new plants. Our clients wanted to add a mix of different plants, all spaced out strategically with a variety of colors. We added flowers, shrubs, and perennial grasses to give the yard some beautiful definition.
---
Our crew covered the soil with river rocks for low-maintenance plant protection.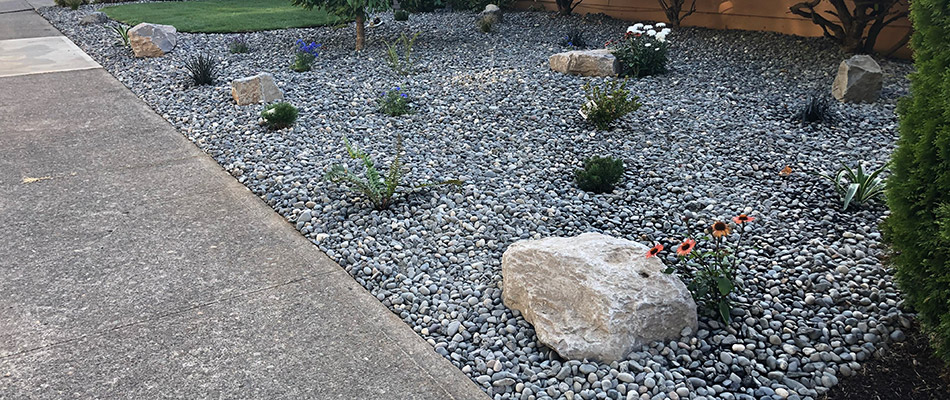 One of the last steps was to either add mulch or rocks to protect the soil and plants. Leaving the soil exposed would have caused harmful water evaporation, soil erosion, and an influx of weeds. Our clients had mentioned to our team that they wanted low-maintenance options for their new landscape. Because of this, we suggested covering the soil with river rocks. Unlike mulch, rocks won't decompose or need annual replenishment. They also add great visual contrast to the grass island in the middle of the yard. Lastly, we tied this project up by adding a few matching boulders throughout the yard, breaking up the green plants, and adding even more low-maintenance interest.
---
See something you like? Call our office for your own landscape renovation!
Our crew had a blast transforming this front yard. We were happy to have a mix between starting fresh and incorporating the existing vegetation where we could. We offer our landscape renovation services to properties in and around Happy Valley, Troutdale, and Gresham, Oregon. If this project sparked some creativity and you want to get started transforming your own landscape, give our office a call today at (971) 284-2035 to schedule your consultation!