As property owners, we always want to be improving our property's resell value – and if we can make the living space even more enjoyable while we're there, why not do it? A great way to add value is by installing a patio, walkway, and outdoor steps in your landscape. By using the same materials for all three, you'll create cohesion in the space which results in a seamless landscape design. If you choose a material that is durable and low cost, like concrete, you can double the benefit of matching materials and increase your ROI on the entire project. Once installed, you'll want to maintain these features and keep them in good condition so that when it's time to sell, they look good as new! Investments like these allow you to have your cake and eat it too since you're improving the property and getting to enjoy the amazing Oregon outdoors in the meantime.
---
Matching materials will add cohesion and create a seamless design.
Incorporating a patio, walkway, and outdoor steps into your landscape will immediately elevate your landscape –even more so if you use matching materials for all three. With all structures matching, you are introducing fewer elements into the environment and creating cohesion. This will create a seamless environment since there won't be different colors and textures all over the place. A cohesive landscape is more aesthetically pleasing and will increase your overall curb appeal. And, if you decide to sell your property in Oregon at a later time, you'll be able to ask for more.
---
Taking advantage of durable and low-cost materials will increase your ROI.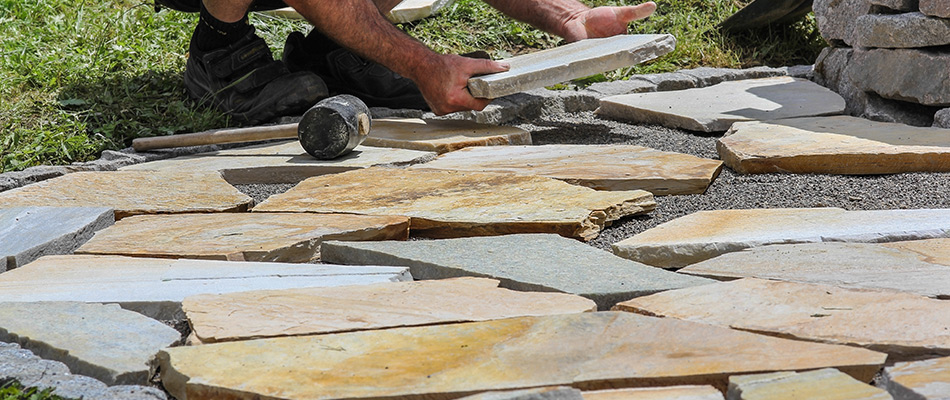 When scoping a project like a matching patio, walkway, and outdoor steps, take advantage of materials that are both durable and lower cost to increase your ROI. Picking out a lower-cost material is beneficial for obvious reasons – the less you spend, the more potential for profit you'll have. However, that doesn't necessarily mean you have to sacrifice quality. You want to ensure your material will be durable so that it has longevity in the property without needing to be replaced or repaired every few years.
Concrete is a durable, lower-cost material that, when properly maintained, can look great for 20 to 30 years after installation.
---
Proper upkeep will maintain added value when it's time to sell.
Of course, adding these features to your property won't do any good if they are dilapidated by the time you go to sell. Make sure you're properly maintaining your structures so that the value they add is maintained. Typically, regular cleaning will do the trick. If you're using a material like concrete, you can power wash these structures one to two times a year. Performing proper upkeep will ensure that your patio, walkway, and outdoor steps look just as beautiful when you want to sell as they did when they were brand new!
You can have your cake and eat it too, since you're improving the property's resell value and getting to enjoy an amazing outdoor space in the meantime.
---
Give us a call today to have a walkway, patio, and outdoor steps installed on your property.
Our team at J&C Lawn Care has been proudly serving property owners in and around Gresham, Happy Valley, and Troutdale, OR, with the drive and expertise you've been looking for. We provide top-tier lawn and landscape solutions including installing stunning hardscape features like patios, walkways, and outdoor steps. We understand how big these jobs can be, and work tirelessly to ensure that every project is customized to complement and integrate seamlessly into its landscape. You deserve nothing less! Call us today at (971) 284-2035 for a free estimate on your dream project.