Hedge and shrub trimming, small tree trimming, and more aren't just for fancy aesthetics. While these activities may make you think of sculpted landscape gardens, the truth is that hedge trimming is an important part of keeping plants healthy. Even very basic trees and bushes need regular trimming for their health. It also keeps your yard from becoming overgrown.
The owners of J&C Lawn Care were born and raised in Oregon, so they understand the needs of plants in Gresham, Happy Valley, and Troutdale, OR. Our landscape trimming services will be part of a custom maintenance schedule for your yard that will keep your plants growing well and your yard neat.
---
How Often Should Plants Be Trimmed
Most bushes, hedges, and small trees in this area of Oregon can usually be trimmed just once a year during the fall, just before winter begins. This is when plants have finished blooming but not too close to when it gets cold and plants become prone to damage. Trimming at other times of year could prevent full flowering in spring or interrupt new, healthy growth. Non-flowering plants should, however, be trimmed in the early spring before new growth begins to keep the new growth healthy.
If your yard is completely overgrown and unhealthy, though, it doesn't matter the time of year - the fastest path to recovery is to start now. We can help you examine your yard and decide on a plan of action for getting it trimmed up and ready to restart healthy growth and flowering. We can also set up a routine lawn maintenance schedule for your entire yard.
---
Why Hire Professionals to Trim Landscape Plants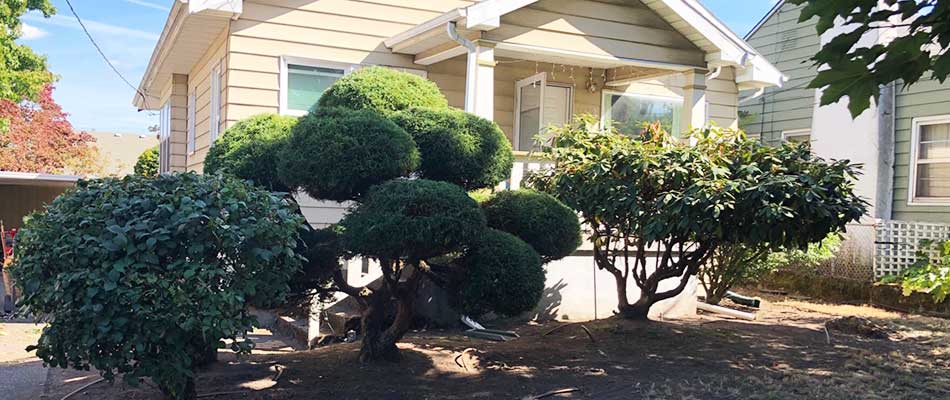 You may be thinking, why hire a landscape trimming company for professional hedge trimming services? Why not buy a pruning tool from the local home improvement store and go out there yourself? How hard can it be to cut off old and dying pieces of plants?
Trimming can be more complicated than it seems. Experienced eyes will know the best places to cut parts off the plant. If you don't have expertise about plant health, it's best to get a hedge trimming company out there to take a look.
We will be able to best decide which time of year each plant in your yard should get trimmed.
We also can inspect for health issues. A tree or plant could be sick with an illness such as root rot, Swiss needle cast, or a fungal disease such as anthracnose. These illnesses might not be apparent to those unfamiliar with them, and they could affect the health of your plant or eventually kill it.
We also look to make sure there are no insect problems in your landscape. Common insect issues in Oregon include aphids or the elm leaf beetle, both of which eat the plants and prevent healthy growth. If we identify any problems with insects, we can make recommendations on how to treat the issue.
---
Contact J&C Lawn Care for a Free Estimate
Maintaining your yard with landscape trimming services will help you maintain a healthier and more beautiful lawn with more variety in color, fuller bushes, and plants that flower to their maximum potential. J&C Lawn Care offers free estimates for those in Gresham, Happy Valley, and Troutdale. Call us at (971) 284-2035 today to find out how we can help you maintain your yard.