A common addition that many property owners in Oregon add to their landscapes is a seating wall. While installing one of these may seem like a pretty straightforward project, there are many factors to consider before committing to a particular style or size. One of the most important is the height itself – it has to be a good height for people to sit on or it loses its purpose. Similarly, the wall should be made of a durable material because it will need to hold weight and be able to withstand the elements. A more complicated factor is your city's zoning laws, which may dictate the size and length of the wall you're allowed to build. Once you've considered all these elements, you should have the perfect seating wall project ready to go!
---
1. The Height Should Be Comfortable For Sitting
If your seating wall is too high or low for people to comfortably sit on, it becomes less of a seating wall and more of, well, a wall without a purpose. Although decorative walls can be nice, when you're shooting for a seating wall, you'll want to consider the height of your wall to ensure it'll suit sitting! Generally, the seating wall height range would be from 18-24" tall, including the capstones.
A good way to figure out what your personal preference is would be to use your sofa's seating height as a reference. End tables are usually a few inches taller, so if the sofa feels a bit low, you can compare the height to an end table and come up with the perfect height that works for you. You can also compare to dining chairs or any other seating in your home!
---
2. Your Material Should Be Durable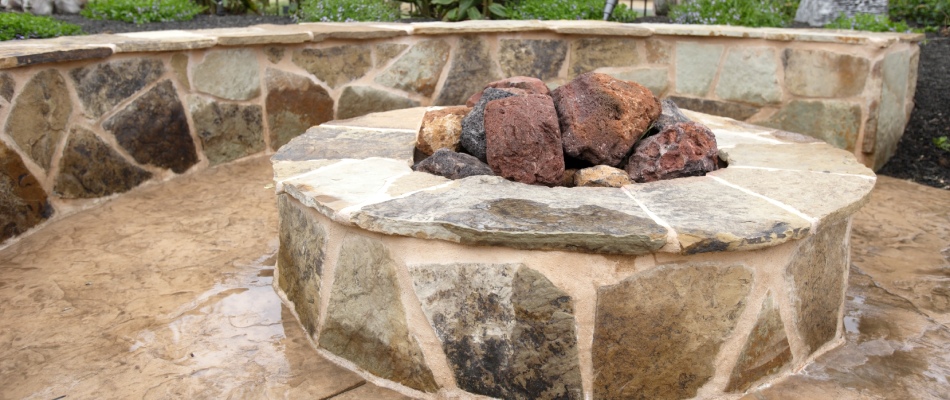 Once you've decided on a good height, you'll want to tackle the material you're using to create the retaining wall next. Just like the material of your sofa, your seating wall material should be both durable and comfortable to sit on. Common materials like large stones or concrete are excellent options that will withstand weight and weather changes as the years pass. Luckily, these materials also look great and will add a beautiful hardscape element to your outdoor space!
In many cases, you can build a seating wall out of the same materials you use for a fire pit or patio to create a cohesive look in your outdoor space!
---
3. Your Wall Should Comply With Any City Zoning Restrictions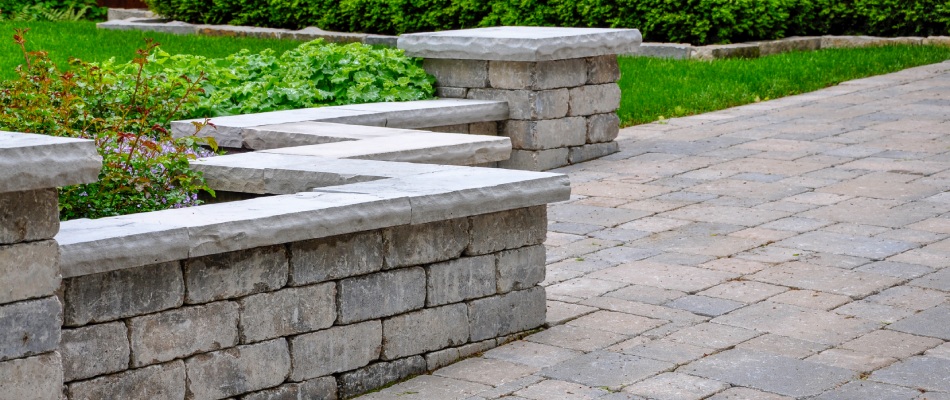 Before approving any construction project, you should always double-check city ordinances and zoning restrictions. Many times, there will be limitations and guidelines on the size and length a seating wall can be, so you'll need to work within those parameters. If you live in a neighborhood with a homeowners association (HOA), you may also want to check if they have any material or color restrictions you should be aware of before starting construction. If you are working with a professional company, they will already be aware of any city-based restrictions that exist, and often have experience with local HOAs as well, so they can ensure your wall complies.
Many HOAs will require you to submit a request form before approving any construction or big changes on your property.
---
Discover what your perfect seating wall entails. Call us today for a free estimate!
Searching for the best company to design and install your perfect seating wall? If you're in Gresham, Happy Valley, Troutdale, or nearby cities in Oregon, you're in luck. We have what it takes! At J&C Lawn Care, we can create a seating wall that is not only beautiful but also up to code. Discover what we can do for you by calling us today at (971) 284-2035 for a free estimate!