Finally, your patio construction project is done, and you can sit down and relax – right? You may still want to add some more landscape elements to fully embed your patio into the surrounding environment and make it nice and cozy. Some excellent options to consider are a matching walkway, a fire pit, and outdoor lighting. A matching walkway will marry the patio into your landscape as a whole, making everything look cohesive and well-designed. Fire pits are amazing points of interest and are great areas to gather with loved ones when the weather gets cool. To make sure enjoying your patio doesn't end at sunset, outdoor lighting can be an essential addition and can highlight the most beautiful parts of your patio and landscape. Any and every element that you add to your patio area will bring a unique feeling to your landscape, so keep tweaking until it feels like an extension of your home!
---
1. Add Cohesion & Convenience With a Matching Walkway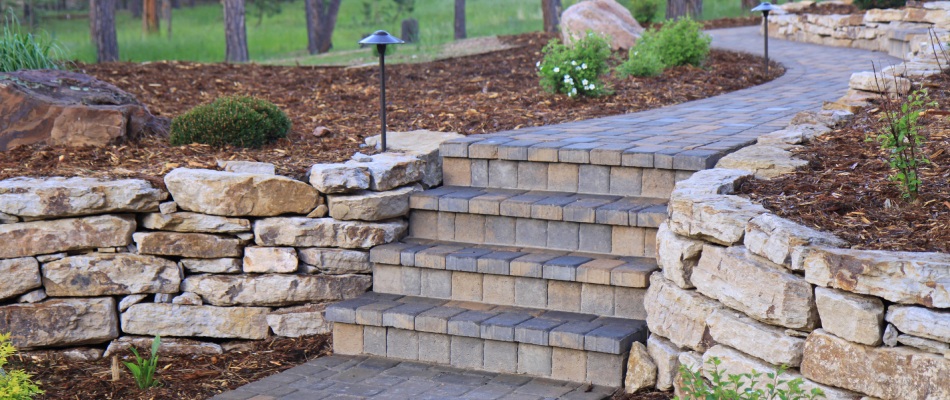 Having a patio structure in your backyard is a great way to add beauty to your property and provides you with a place to spend time at in your outdoor area. However, if you want to take your property to the next level, consider adding a matching walkway. Walkways allow you to navigate around certain areas of your property while adding a visually attractive element to your outdoor space.
Additionally, adding a matching walkway gives you a convenient path to take to get to your new patio. It keeps foot traffic off the grass, preventing soil compaction that can be a problem later and allowing for decorative planting alongside the path to add more interest.
Concrete pavers and flagstone are great materials to use when constructing walkways.
---
2. Enjoy the cooler weather while gathered around a fire pit.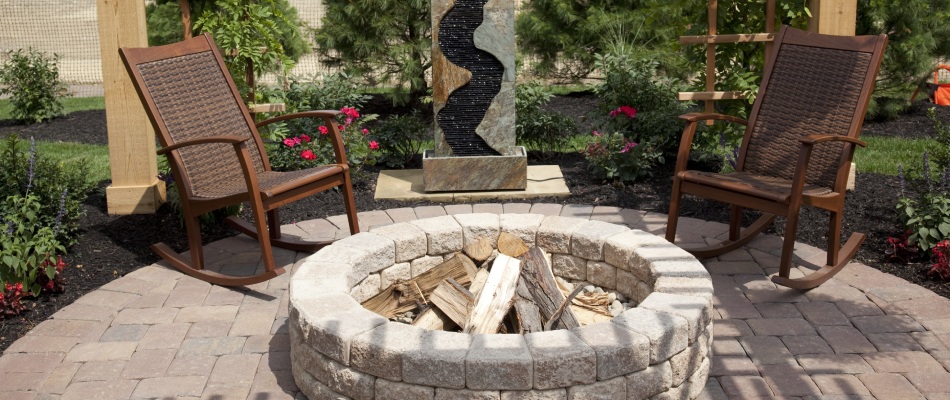 During the cooler months, most parts of your landscape will be dormant and not as lush and vibrant as they are during the growing season. However, you can still add interest to your landscape during this time by installing a fire pit! Fire pits can be made in many different styles to suit your patio, whether it's clean lines for a modern style or stacked stone for a more natural appearance.
Fire pits also provide you with a beautiful space to spend time with loved ones outdoors. Providing warmth and opportunities to roast s'mores, the best conversations seem to happen over a crackling fire. Especially during the holiday season, having a space to enjoy the landscape you've worked hard all year to nourish is a wonderful gift to give yourself and your family.
---
3. Illuminate Your Landscape With Outdoor Lighting
Don't let sunset be the ending marker for enjoying your patio space! Outdoor lighting can illuminate the area and extend quality time hours well after dusk. It's also a wonderful way to highlight the most beautiful parts of your patio and landscape – just place lighting around your decor pieces to create interesting accents and shadows. Lighting is also a great way to increase property value and nighttime curb appeal. When you have lighting that shows your well-manicured lawn and landscape, it'll translate into better impressions of your home as a whole!
---
We're ready to turn the vision of your dream patio into a reality. Call us today for a free estimate!
Are you starting to see the complete vision of your dream patio? At J&C Lawn Care, we're confident we can turn it into a reality! We have been proudly serving Gresham, Happy Valley, Troutdale, and other bordering cities in Oregon with expert customized landscape design and installation services. Our focus is on your specific needs, wants, and satisfaction above all else. Give us a call today at (971) 284-2035 to schedule a consultation.